Solving the Mystery of Dendritic Ridges
The Thunderbolts Project is proud to announce its first Innovative Experiment Prize : dendritic ridge systems created by electric discharge. Three cash prizes will be awarded: Gold-$6000; Silver-$3000; and Bronze-$1000.
In the planetary science of the Electric Universe, the priority must be on experimental verification. For the Thunderbolts Project, dendritic ridge formation by electric discharge tops the present scientific agenda.
We believe it's time for a definitive experiment to test the electrical interpretation.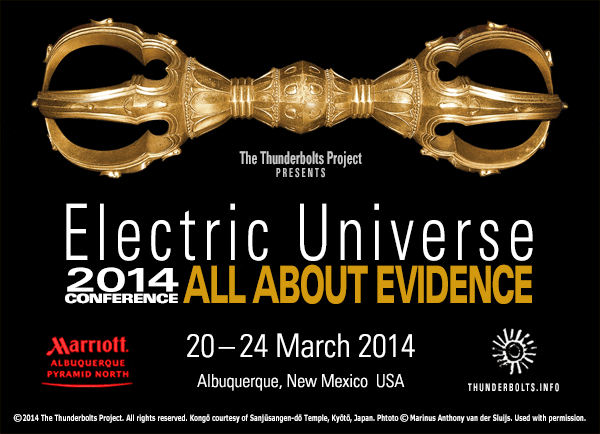 Competition and event for 2014
EU 2014 will not just be our biggest conference yet; it will be the best as well. Backed by an interdisciplinary synthesis, the EU community is now attracting unprecedented public and scientific interest.
Join the Thunderbolts Team at EU2014 for a four-day exploration of interdisciplinary science, an event designed to break the bounds of conventionality.
Discover the universal role of the electric force, from microcosm to macrocosm, where virtually every new surprise points us in the same direction. And find your own connections within a movement that will shape the future of science.  Read More>>>
The mainstays of the Electric Universe community join with leading pioneers in the sciences to review promising frontiers of discovery. Read More>>>
Building on the remarkable success of our scholarship program over the past two years, EU 2014 will offer 15 or more scholarships to outstanding students from 12 years of age upward. Read More>>>
We have chosen as our symbol for these annual conferences the primordial cosmic thunderbolt: Sanskrit [vajra], Tibetan [dorje], and Japanese [kongō]. We did so because this enigmatic "weapon of the gods" directly links a global theme of antiquity to the leading edge of plasma science. Read More>>>
(Visited 1 time, 1 visit today)